Attending Physicians at The Laurels of Salisbury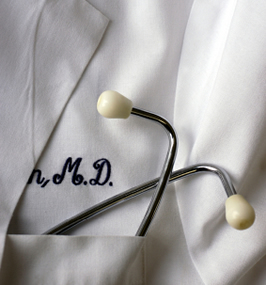 The Laurels of Salisbury is very pleased that many surgeons and attending physicians follow their patients at our facility.
If your physician does not have admitting privileges, our Medical Director or other attending physician will be happy to oversee your care while you are staying with us. If you have any questions regarding your physician coverage, please don't hesitate to contact us at (704) 637-1182. We can assist you to ensure that you will have physician coverage.
The current list of attending physicians at The Laurels of Salisbury includes, but is not limited to, the following:
James L. Comadoll, MD, Orthopaedic Medical Director
Dr. James "Chip" Comadoll is a Board Certified Orthopaedic Surgeon specializing in Total Joint Replacement and Sports Medicine. Dr. Comadoll started his professional career in Salisbury in 1992. Most recently, Dr. Comadoll started RoMedical Orthopaedics in 2000. He is the Lead Physician of RoMedical, a multi-specialty practice which includes Orthopaedics, Urgent Care, Podiatry, Physical Therapy and Pain Management.
Dr. Comadoll was instrumental in developing the Joynt Camp at Rowan Regional Medical Center in 1995 and still serves as Director of that Program. Dr. Comadoll performs surgery at several different Medical Centers in the Region, including Rowan Regional Medical Center, Thomasville Medical Center and Huntersville Hospital.
Dr. Comadoll is nationally known as a leader in Total Joint Replacements. He speaks as well as teaches other surgeons the latest techniques across the country several times a year. Dr. Comadoll is also a leader in minimally invasive surgeries. These surgeries use a much smaller incision, which usually means less blood loss, pain and leads to a quicker recovery.
Dr. Comadoll was pleased to be named Orthopaedic Medical Director of The Laurels of Salisbury in September 2000.