The Laurels of Salisbury Staff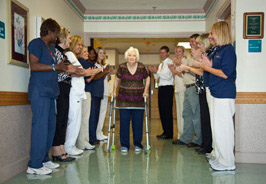 What differentiates one nursing & rehabilitation center from another? The answer is... the people who work and reside there! The people set the tone, the atmosphere, and the expectations. At The Laurels of Salisbury, we take great pride to ensure that everyone feels like part of our family, and that they are treated as special "guests" in our home.
The Laurels of Salisbury employs a team of highly qualified medical professionals, including a Medical Director, Registered Nurses, Restorative Care Nurses, a Treatment Nurse, state tested Certified Nursing Assistants, Physical Therapists, Occupational Therapists, and a Speech Therapist. Our on-site Rehab, Dietary, Social Work, and Activities departments provide personalized and compassionate care to each guest. From the moment you walk through the front doors, the warmth and caring of the staff will begin to gain your trust and confidence, as they strive to exceed your expectations.
Each Team Member takes great pride in portraying "The Laurel Way" of caring, as they strive for excellence in providing only the highest standard of care and services to every guest, and to every family member and visitor. Come on in! Visit a while! Let us show you our very best... let us show you The Laurel Way.
Casey Baucom, Administrator
Casey is a lifelong resident of North Carolina. After growing up in Marshville, NC, he attended and graduated from the University of North Carolina in 2000. Shortly after graduating, he accepted a position in the therapy department of a skilled nursing and rehabilitation center in Charlotte, NC. He has worked in skilled nursing centers consistently ever since. After holding a variety of positions, Casey became a licensed Nursing Home Administrator in 2004. He joined The Laurels of Salisbury in June of 2007.
Crystal VanBencoten, Director of Nursing
Crystal grew up in Elmira, New York and moved to North Carolina in 1996. She obtained her initial Nursing degree form Montgomery Community College in 2006 and then obtained her Associate Registered Nursing degree from Davidson Community College in 2012. Prior to coming to The Laurels, Crystal spent the previous four years as the Resident Care Director at a local assisted living facility that frequently worked closely with The Laurels. Crystal joined The Laurels of Salisbury's staff as its Director of Nursing in October of 2016. Crystal has had a lifelong passion for helping those in need, and enjoys working in a field where she can do that on a daily basis. When she's not at work, Crystal enjoys spending time with her son, who is very active in many sports.
Becky Warlick, Director of Marketing
Becky grew up in Rowan County. She received a Bachelor of Arts degree in Psychology from Catawba College in 1998. She worked as a hospital case manager for years before joining The Laurels of Salisbury team in October of 2016. Becky enjoys working with seniors and helping people. She is active in her church community, and enjoys spending time with her husband and 2 children.
Diane S. Spicer, OTR/L, Rehabilitation Services Director
Diane grew up in Carroll County, Maryland. She received her Associate's Degree from Catonsville Community College in Maryland and her Bachelor's Degree at The University of Findlay in Ohio. She has been in the therapy field since 1994 and here at The Laurels of Salisbury since 2004 as Rehabilitation Services Director. She has been an active member of the RSD Council and assists with program development for Laurel Health Care Company. She is a member of AOTA and NCBOTA. Diane is a guest speaker at the local OTA college and assists in level 1 fieldwork for the new OTA students.