Exceeding Expectations at The Laurels of Salisbury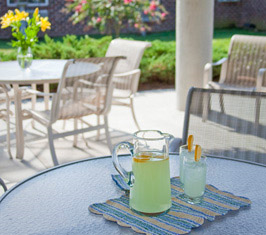 At The Laurels of Salisbury, it is our mission to create a legacy by exceeding the needs and expectations of those we serve while embracing The Laurel Way. We understand that caring is more than providing excellent medical and guest services. It also includes being a companion and treating each guest with the utmost dignity, respect, and compassion.
"The Laurel Way of Caring" can be found in a warm smile, a kind word, or a comforting touch. We are passionate about our mission, and it is reflected in the letters we receive from guests and family members.
"I came to The Laurels after a total hip surgery for rehabilitation therapy. I was very pleased with the way they all worked together to help everyone."
"The food was excellent!"
"Excellent care. Good physical therapy. Concern for all patients. Clean facility. Excellent staff members, nurses and CNAs."
"You really care and make sure your patients feel love and get the attention they need, above and beyond the call of duty."
"After a week of my uncle being a guest with The Laurels of Salisbury, I can honestly say we have become more and more amazed at the level of professionalism and competence that are perfectly matched with care and compassion of the staff there."

Wendy L., Executive Director of Carillon Assisted Living of Salisbury